If you like IKEA you will love IKEA Family
If you are passionate about home decor, join our Club! You will get exclusive information and you will benefit from many advantages in your IKEA purchases!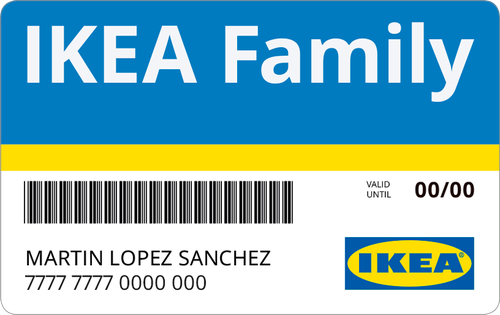 Completely free
Save a 5% in a
purchase voucher
on your IKEA purchases
5% off on all your purchases
Every time you use your IKEA Family card to buy at IKEA, you get a 5% off in a purchase voucher. You can use that discount in your next purchase, within 3 months. You can exchange your purchase voucher from $8 accumulated and up to $200 monthly.
Special offers at your IKEA store
You'll enjoy exclusive offers at your IKEA store on furniture and decoration.
Happy birthday
IKEA congratulates your every year with an amazing gift. We are looking forward to your birthday!
Get inspired with our catalogs
You'll be the first to know about everything! The best offers and all the inspiration from IKEA straight to your house.
Transparent guarantee
For being an IKEA Family member you have 120 days to returning the products if you change your mind.
Check your discounts
From the web, you'll be able to check your accumulated discounts, update your information or print your temporary IKEA Family card.
Personalized customer service
For any doubt or question we are available at the IKEA Family department dialing 787 750 IKEA (4532)
Frequently asked Questions
Does the IKEA Family card incur any expenses?
No, your IKEA Family card is completely free.
How can I accumulate discounts with the IKEA Family card?
When making your purchase in IKEA Puerto Rico (only furniture and decoration) showing your IKEA Family card, you'll accumulate a 5% of the amount.
Where can I check my purchases with discount?
On this same web (www.IKEA.pr/ikeafamily) you'll be able to check your purchases with discount logging into your private account with your user and password.
When and how will I receive my purchase voucher?
The purchase voucher will be issued 35 days after the purchase month is over, and you'll be able to download it accessing our web with your user and password.
Do purchase vouchers have a minimum or maximum amount?
Yes, the purchase vouchers have a minimum amount of $8 and a maximum of $200.