Discover your Complete IKEA Bayamón Store
Since 2013 we have been with you in Puerto Rico with Pick up Points located in Bayamon, Carolina and Ponce full of solutions for your home: unique, functional, well-designed products at low prices that most people can afford. Now, we bring you a unique experience that you can live from the new opening: a complete store!
We are ready to introduce you to the new IKEA store in Bayamon. Located in the Santa Rosa Mall with more than 2,300 parking spaces.
The premises offer a showroom adapted to the Puerto Rican lifestyle, home accessories, a warehouse equipped for direct purchase, a 380-seat Swedish restaurant, a store offering Swedish food products ready to take home, and a full package of planning services and others, such as the Småland childrens playroom.
Learn more about your store...
Restaurant
Enjoy breakfast, lunch or dinner. All your family is welcomed. With Swedish-style dishes and local delicacies you can find healthy, organic and vegetarian options to keep everyone satisfied.
Bistro
Healthy and wholesome food, freshly handmade products, enjoy a drink or have a snack with the family.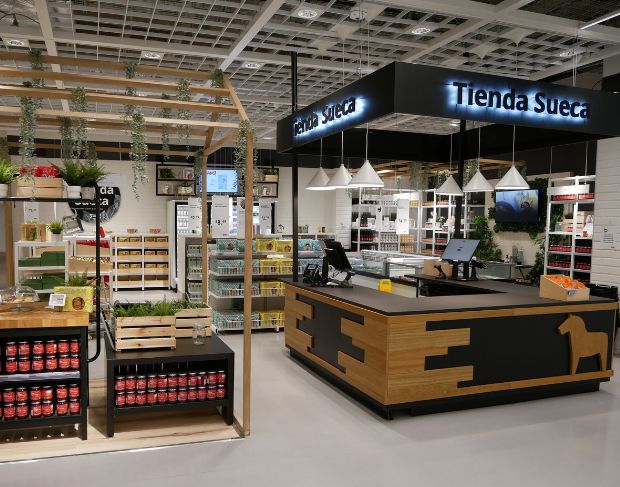 Swedish Food Store
Meat, fish, sweets, snacks, desserts, drinks... take a little piece of Sweden home with you thanks to the delicious fresh products you can find in our Swedish Food Store.
Småland
The Enchanted Forest, our childrens area located at the store entrance where children can play and have fun. If your children are older than 3 years and are between 95 and 124 cm tall, they are invited to enjoy the ball pool and a lot of other activities.
Your children will be happy to spend some fun time in our playroom while you do your shopping.
Furniture area
42,750 sq ft of showroom with furniture at such low prices that most people will be able to enjoy it.
Accessories area
32,500 sq ft with plenty of home accessories adapted to the Puerto Rican lifestyle.
Checkout
We have 11 boxes available to make your shopping experience the best.
Customer service
A team of collaborators willing to assist you with the best smile in whatever you need.
You can take your IKEA favorites home the same day!
Now we create new stories together when visiting your IKEA store
Find us at the blue and yellow building in Santa Rosa Mall State Road #2 Lot 1915 Bayamon, PR
Discover
how to shop
If you still have any doubts about how to shop at your new complete IKEA store in Bayámon, don't worry, in this video we explain it to you in detail.
You asked for it and we have done it:

Welcome to your Complete IKEA Store in Bayamon!